Before you all jump to the conclusion that this is going to be one of the typical MIL posts, I've got to break it to you gently...My MIL is AWESOME!!! and it's her birthday today so Happy Birthday, Joan!!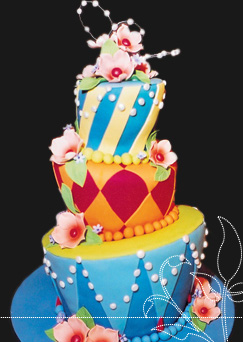 The other day, Mary at
Now Entering Momville
blogged about what your life would be if you had married your first love...for those of us who didn't. And I was quickly reminded of how thankful I should be that I didn't marry
college boyfriend
because either I would be in MIL hell, be estranged from said MIL from hell, or she would be buried in my backyard. Can you say control freak?!
College boyfriend's
mother actually set him up on a lunch date with one of her co-workers...we had been dating for 3 years!! NICE!
I have another MIL from hell story...When my husband and I moved to Florida, his only relative in Florida at the time was his dad and his new wife, The Beast. The Beast was/is another über-control freak who was so, so difficult to get along with. She would actually call me at my work and chew me out for not calling them on a weekly basis - hello?! not my parents! don't even like you!! The last straw for me was at Cameron's 1st birthday party, The Beast actually said to my baby, "No, let Grandma Beast, do that. Obviously Mommy doesn't know what she's doing does she!" I'm not lyin'!! So after my husband had a discussion with his dad about how we didn't like her behavior or comments, his dad and The Beast chose to exit our lives...
Joan on the other hand has ALWAYS been a wonderful MIL, friend, and confidant. She and her husband, Mark lived in Connecticut until about 7 years ago. I would call her in the fall and say, "I bet the leaves are turning and are looking gorgeous right now. I sure miss that; you know autumn is my favorite season" and poof! she would send me a ticket so I could visit. When they moved down to Florida, they chose a community about 30 minutes away...she later told me one of the reasons they chose the area was so that they could be close to the grand kids, but not too close to crowd us.
Joan has taken all of my children one day a week prior to entering school (she still does so with Jack-every time she has him, I get "Hi Momma" e-mail pictures of him - a treat to receive at work!). She does this to help us out financially b/c she knows daycare costs are a bitch. Speaking of financial help, she contributed money each month to the girls' college funds (which are now paid for...). Anytime a child is sick, Grandma is there to take care of them. Grandma will take the kids to parks, movies, etc. etc. My kids are truly blessed to have her in their lives as am I.
I could literally go on and on, but I also don't want to make you nauseous with the utter awesomeness which is Joan. Don't get me wrong, she's not perfect, but neither am I...I sure did luck out with her though!!!