Welcome BATW travellers!!!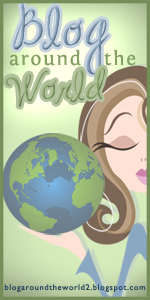 I'm so excited to have extra visitors today!! You've picked a wonderful time of year to come visit. The weather is cooling off (a little) and there are no hurricanes this week (BONUS!) I live in Central Florida...which encompasses a large area:


Since I have limited knowledge of
ALL
of Central Florida and there are many more Florida bloggers to come, I am going to concentrate on the Orlando area. And no, my post will not be all about this guy:
or this place:
or this place:
I'm not a Florida native (native?! what's a Florida native?!...they seem to be far and few between), I'm originally from Delaware. I moved here via Washington state via Delaware via Virginia via Delaware...it seems a little unsettled, but I've been here since 1996. I was quickly informed by authentic southerns (i.e. those not from Florida) that Florida is not really the south (primarily because most of the people residing in Florida are from up north). In my mind, however, I am living in the south and there are many things I enjoy about the south...warm weather in the fall and winter, sweet tea, manners (though with all the northerners here, that is sometimes lacking) and friendliness. Things I miss from where I'm originally from...leaves changing in the fall, snow (okay, so I can see pictures to handle that craving), being so close to other states (it took 15 minutes from my home in Delaware to be in PA, MD, or NJ!). I'm not looking to leave anytime soon, I've acclimated quite nicely to life in central Florida flaws and all...(read: hurricanes, 2000 election). One of the nice things of living in Florida is that people love to visit...see the 3 pictures above for the reasons...
On the attractions: Before I moved here, I thought I would be at the theme parks every weekend and would have season passes to all of them. The truth is, I might go down to the attractions 4 times a year - tops. I rarely venture past downtown Orlando...there's just no need (plus who needs that tourist traffic - no offense visitors, but it's hard to keep your eyes on the road when there's so many attractions to see!!). I did splurge this year and got season passes for Disney and Sea World (I still don't use them like I should!). Florida residents do get a slight discount at Disney (not much!), a better one at Universal (notice I wasn't the bargain hunter in this scenario), Sea World is the most expensive daily ticket price, but they do have a deal that you pay for one day and come back for the rest of the year free (they also allow you to breakdown the cost into monthly payments). Hint to visitors...best time of year to visit: September and October...weather is good and little to no lines. Worst time of the year to visit, Christmas followed by Easter and Thanksgiving.
On the hurricanes: Hurricane season begins June 1st and ends November 30th; though it doesn't seem to affect us until around August. In BC times (before Charley), I paid no heed to the hurricane warnings or preparation guidelines. Then the 2004 hurricane season hit:
Now, I'm not necessary a Nervous Nelly, but I am much more aware of what's going on in the Atlantic!! I know what the reliable weather websites are and when to get out of Dodge!!
More on the Weather: Summers can be quite intense...the hot weather starts in April and goes until the end of September. There is high humidity and thunder storms most afternoons...you get used to it and you spend most of the time in air conditioning or in a pool!! The rest of the year is GORGEOUS!!! It's warm with low humidity...we do have about 7-10 days a year when it gets a bit chilly 50-60 degrees Fahrenheit on average. There are always a couple nights with freeze warnings, but that's about it for our winter.
On the creatures: Lizards, lizards everywhere...you step outside and they scatter. Most of the time I forget they're around until an out-of-towner freaks out, makes a comment about them, or my middle child Emmy begs for the umpteenth time to have one as a pet. Our lovely insect population is THRIVING; everyone in Florida has a bug guy 'cause if you don't, you'll soon have new, 6-legged roommates...can everyone say "Cockroaches" ?! Florida insects love to come in and visit especially after a lot of rain (see above for weather...rains.everyday.in.the.summer!!!). Again, you get desensitized, you put the poor creature out of it's misery and put a call into the bug guy. Oh, and we got some leg-challenged creatures...SNAKES! Click here to read about the many varieties. We usually just see these guys, Black Racers...harmless, abundant and loooonnnng!!
and our most famous creature...the ALLIGATOR. They say that there are alligators in every body of water in Florida...is this true? I don't know and I don't want to find out! One little piece of trivia I picked up from a recent trip to the Everglades is Gators like marshmallows...honest!
On the cost of living: When I moved to Florida in the mid-nineties, we always heard that it was such a bargain to live in Central Florida. You could buy a nice "starter home" or whatever you wish to call them for about $100,000 or under. Which sounds like a great bargain, however, the pay scales are much less down here than up north so it's all relative. What really hurt was the real estate boom a few years ago hit us just like the rest of the country and house prices skyrocketed (unfortunately, salaries did not). We had a bunch of companies buying apartment complexes and upgrading them into Condos...pretty soon there were no rentals for people. It was getting very difficult for families starting off to get into one of the starter homes for less than $275,000. The real estate slump has now hit here also...I now live in a house that is worth $70,000 less than when we bought it in 2006...again, it's all relative because we're not planning on moving anytime soon.
On the Beach: If you head toward the East, you hit the Atlantic in about 45 minutes...New Smyrna Beach, Ormond Beach, Daytona Beach...lots of choices! If you head West, you'd hit the gulf coast in about 2 hours. Also, off toward the East, there's Cape Canaveral near Cocoa Beach and you know what that means...no not Jeannie...NASA. It's a neat experience to be able to actually see the space shuttle go up...during the day or at night. On the flip slide, I'm not a big fan of shuttle landings...the Sonic Booms always make me jump and a lot of times there are early morning landings scheduled...Sonic boom+dead sleep = horrific way to wake up!!
There are a lot of smaller cities surrounding Orlando and many different choices of communities in which to raise your family. We really enjoy the community that we have chosen for our family; there are lots of things to do, lots of places to see and visit. When I was trying to figure out how to end this post, I verbalized to my husband and my eldest daughter the block I was having. My daughter said, "Central Florida is great to live in because it's Cool!" When I asked her why it was so cool, she said, "I don't know, it's because it is..." There you have it, my sentiments exactly, I can't pinpoint one specific reason that I enjoy where we are, it's just a compilation of things that makes it right for us.
Well, thanks for traveling down to see us today...come back and visit anytime!!!